Photo by (©) Phil Noble, Reuters
story by (©) New York Daily News

"Not impressed" (Ashley Wagner)
Photo by (©) Darren Cummings,
Getty Images
Now that the 2014 Winter Olympics in Sochi, Russia are now officially closed, boxed up, and put back into cold storage for the next four years, I can now officially award additional medals to certain well-deserving athletes! I ended up watching very little of NBC's TV coverage this time due to my life's current level of busification and my lack of inspiration for the Winter games in general (I have a slight preference for the Summer games). My general opinion of this particular games was best summed up by a male DJ at KISS FM Radio a few Olympics ago (I'm thinking the Lilyhammer games, but not sure, or whether it was was Kid Kraddick or not), when he sang "I hate the Winter Olympics, little bitty countries kicking America's butt" to the Olympic theme song on the radio and we broke up laughing. I was not particularly impressed with the overall American performance either, particularly the "lack-of-speed-skating team" and either gender's hockey teams. The U.S. did take the Bronze medal in "overall medaling", but only due to all the new "X-game" events just added this year. One thing is certain though, THIS Olympics will forever have an ASTERISK next to it! (see image above – at the Opening Ceremonies) That made me ROFL! I especially appreciated the Russian's successful effort at self-depreciating humor at the Closing ceremonies (see story by (©) WGHP Fox 8) where actors repeated the unopened "asterisk" ring in formation and then opened it up properly! One other really cool thing to those of us old enough to remember the Cold War and Jimmy Carter's stupid Olympic boycott, was seeing and hearing the Star-spangled Banner played in Russia!

Photo by (©) Mark Humphrey, AP
story by (©) Greg Beacham, Yahoo News
I actually tuned into the third quarter of the Women's hockey game and was delighted to see them up 2-0 on the Canucks only to get me all excited and my hopes up only to watch them completely crash and burn in the final three minutes to snatch defeat from the jaws of Victory¡ I could not bare to watch the overtime and found out later that they were beaten in a five-on-three power-play. Hey refs, WHO calls that many penalties in a SUDDEN DEATH overtime in the GOLD medal game unless it's blatant?! Let 'em play, for sport's sake! At least the women fought hard to the end. I did not see the men's games, so I can't comment on those except that I found out later that the men just completely rolled over for Finland. C'mon guys, the Bronze is still worth playing for! Instead you co-own the "Wooden Medal" with your female counterparts for this Olympics! At least, you did channel 1980 and beat the Ruskies!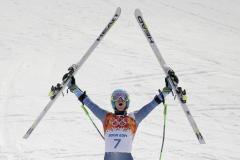 Photo by (©) Charlie Riedel, AP
story by (©) Bleacher Report

Photo by (©) Darron Cummings, AP
story by (©) Paul Newberry, AP
courtesy (©) Stamford Advocate
I was most impressed with Ted Ligety's giant slalom win and Mikaela Shiffrin's gold medal slalom performance, particularly after she came oh so close to wiping out on the second run but recovered nicely for a gold medal! In the meantime, (my) hometown's favorite son Jordan Malone anchored for the men's 5000m short track speed-skating relay team which took the Silver medal! Jordan showed off his Texas pride by skating a second victory lap with the Texas flag held high! Way to go Jordan, the eyes of Texas are upon you!
Anyway, time for the final 2014 Winter Olympic medal awards!:

Photo (©) Russell Isabella,
USA Today Sports

Photo (©) JohnnyQuinnUSA

Photo (©) JohnnyQuinnUSA
via Twitter
story by (©) Mail Online
This game's "Iron Medal" (awarded for sheer toughness, grit, determination, stick-toittiveness, overcoming difficult odds, and overall good bull) is a tie between Johnny Quinn of the United States bobsledding, and Mikaela Shiffrin (United States Alpine Team). Johnny, for overcoming his spartan Communist era-like hotel accommodations and making it to his event after having to break down his locked-from-the-outside hotel room door and then getting stuck in an mal-functioning elevator! Mikaela, for overcoming certain elimination by coming as close to wiping out as possible and still managing to both fully recover instantly and still finish in gold medal-winning time on the very difficult and treacherous women's slalom course with sheer grit and determination!
This game's "Wooden Medal" (awarded for (usually) 4th place and below (expectations) finishes due to utter underwhelming performance, lack of preparation / work-ethic, rotten luck, choking, excessive whining, embarrassment, and / or otherwise snatching defeat from the jaws of near-certain victory, etc.) goes equally to both gender versions of the U.S. Hockey Team; with the whole Men's Long-track Speed-skating Team finishing a very close second.

Congratulations, Team USA for these and all the other medals won and to everyone for their efforts, medal winning or otherwise who gave their best to represent themselves and the United States in this year's Olympics!