Macro photo of fiber-optic Christmas tree
Another Christmas holiday has come and gone. This one went fairly smoothly. The requisite relatives all got visited and gifts exchanged, cookies and turkeys baked, and extra calories consumed! My big gift from Santa (myself, lol) was the Tamron 90mm macro lens I've been craving. It was expensive, but so far it is well worth it because it is showing itself capable of capturing very vivid and accurate images even when blown up and cropped, even when wide open. I'll post a review soon when I've had more time to try it out further. I've been having fun experimenting with it, but the real fun will come in Spring when there are bugs and flowers to capture!
I also picked up a couple of lens hoods, and a remote to get free shipping. For some reason Pentax does not include hoods with their kit lenses despite their kit lenses being high quality in their own right. S got an iPad which caused the only minor Christmas day drama in that it proved difficult / time consuming to get set up on our rather secure Wifi. One needs the mac address to access our Wifi but for some reason the iPad requires one to be connected to the internet in order to get to any of the menus. It must needs to phone home immediately before it can do anything but say hello to you! I also attended Church worship service on Christmas morning for the first time – Seems like it's been very rare that Christmas has fallen on a Sunday. This was a real joy!

Macro photo – guess what / where this is.
I also got to chill down with a bunch of my Denton peeps the day after at what's becoming an annual reunion of sorts! The drama waited until the next day when the car wouldn't start. I suspect, based on the noises it was making that it's the starter gears. After consultation with my mechanic, I was directed to jack it, locate a bolt on the bottom engine pulley, and to use a good wrench with a cheater to turn it 1/3 turn in order to get different teeth to meet each other. I'm not sure that this did anything, but after over a minute of off and on cranking, coughing, belching and gas fumes, this heep finally started up and I drove it to and dropped it off at the mechanic's place to be fixed. Ha – it was just like a "normal cold startup" on my wife's old (carburated) 60's vintage Cougar but sure sounded ugly coming from this modern car. Also found out from the mechanic that S's truck is really wanting a new alternator for a late Christmas gift, yay me!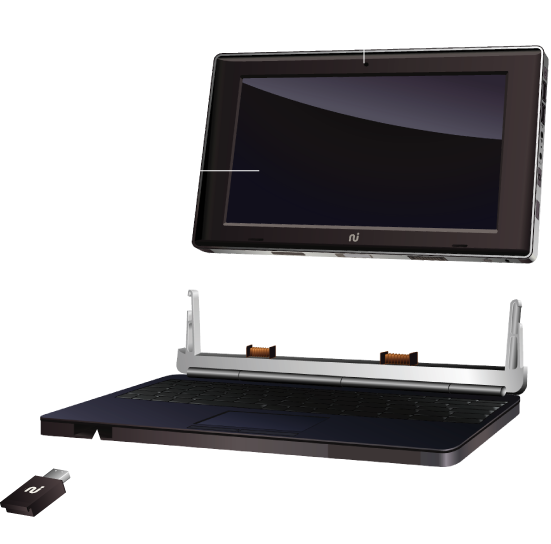 Cool gift idea for the geek you neglected during the holidays! This is a "Touchbook II", a very affordable all-Opensource Linux-powered tablet! Warning: Their website is a real dog (slow loading) though. Seeing S's new iPad tweaked my interest! >>>>>>>>
---
Today's quote: "Liberals who denounce Western Civilization haven't lived under the alternatives." – me
Good News: Swiss Govt: Downloading Movies and Music Will Stay Legal
me:Some countries prefer protecting individual freedom as much as Big Hollywood!
Firefox addon to get around SOPA – by Ernesto, "Torrentfreak", Dec. 20, 2011.
More Good News: Alabama Miracle? Dramatic Drop in Unemployment Continues After Crackdown on Illegals – by John Hill, "Stand with Arizona", Dec. 21, 2011.
Paulonomics: Ron Paul's plans for taxes, spending and Social Security – by Zachary Roth, "The Ticket", Dec 21, 2011.
me:Don't know why people think this guy's ideas are crazy, because they make more sence to me than anything else coming out of Washington these days!
Extending Unemployment Insurance a Bad Deal – by Doug Bandow, "The American Spectator", Dec. 19, 2011.
"Any stimulus from UI benefits will be counteracted by the anti-stimulus of the higher taxes needed to pay for them…"
Cops Ready for War – by Andrew Becker, The Daily Beast, Dec 21, 2011.
Shoplifters Robbed while stealing from Grocery – by Eric Pfeiffer, "The Sideshow", Dec 19, 2011.
me: Hahahahaha – Karma!